Senior Home Health Care Services
The need for senior care services may come up suddenly, or elderly home care services discussions may be the result of persistent and declining health. Regardless of why you or your loved one may now require elderly assistance, Centric Healthcare provides senior care services for the residents of Rochester, Minneapolis, St. Paul, and the surrounding cities in Minnesota. We understand that family members still picture their loved ones as strong and reliable family leaders, so deciding to seek out at-home senior care can be overwhelming.
When loved ones need elderly assistance, there will be a lot of concerns and questions, including how to find a trustworthy home care agency, understanding how an elderly caregiver can help, and what are the steps necessary to get elderly assistance. Centric Healthcare understands how difficult this time is and we are here to help. We have helped numerous families across Minnesota find peace of mind. Neither receiving nor giving care is an easy task, so we put relationships first to support those giving care, we protect the dignity of the elderly who are receiving care, and we take all steps necessary to help enhance the lives of both the seniors and their families in each and every caregiving experience.
From non-medical paraprofessional care to licensed medical professional care and many more in-home care needs in between, our senior care services offer a wide range of services that can be customized to meet your family's unique preferences and needs. While the tasks may be different, the goal of care remains the highest quality for each of our clients.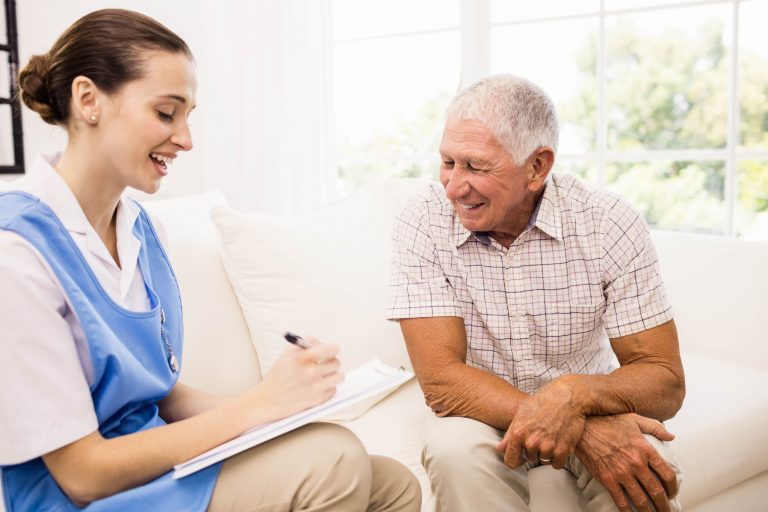 Our Senior Home Care Services
Centric Healthcare offers a wide variety of elderly home care services including short-term and long-term elderly assistance that requires elderly services from professional, licensed caregivers. Caring for elderly parents in order for them to remain independent and in their own homes can be difficult. Our professional in-home care services are available for those who are experiencing a short-term illness or injury or are recuperating from surgery or a recent hospital discharge that may require a home health nurse to provide necessary injections or treatments. Our at-home senior care professionals can help you or your loved one transition from hospital to home or remain at home during an illness. Our licensed medical professional care for Rochester, Minneapolis and St. Paul residents may include:

Non-Medical Paraprofessional Care
Along with medical home health assistance, Centric Healthcare also provides personal care services for seniors. For seniors aging at home, activities of daily living may become difficult or unsafe for many seniors to do on their own. Helping the elderly is a passion of our caregivers for seniors. With our elderly home care services, you can rest assured that your loved ones will have the care and support they deserve. Our home care agency offers a range of non-medical paraprofessional care to St. Paul, Rochester, and Minneapolis residents including:
Home health aides
Personal care assistants
Services may include activities of daily living, instrumental ADLs, and homemaking.
When your loved one is diagnosed with dementia, their health and well-being will depend on family and the comfort of familiar surroundings. Over time, your elderly loved one may rely on family caregivers more and more. It is common for family caregivers to find themselves overwhelmed in trying to care for their loved ones, and you may start to worry that you will need to move your loved one into a permanent nursing facility. Here at Centric Healthcare, we understand the challenges of caring for those with dementia. Our in-home caregiver services will be tailored to the specific symptoms, risks, and challenges that are related to the various types of dementia. Our dementia elderly care services may include help with:
Walking assistance

Wandering prevention

Transferring assistance

Bathing, grooming, and dressing

Medication reminders

Light household chores

Meal preparations

Mild Alzheimer's Home Care
After receiving the initial diagnosis of Alzheimer's, families are often faced with difficult decisions about the care their loved one may need. Family members with their own families, work and school are faced with the stresses of balancing family and caregiving. Our senior care services allow your loved one to remain in their home and to maintain their independence and daily routines. Senior care is made available in your loved one's home and with senior home care services that are provided by qualified, compassionate and knowledgeable caregivers. An in-home caregiver can help with regular monitoring and routine check-ins, giving you peace of mind in knowing that your loved one is safe and secure.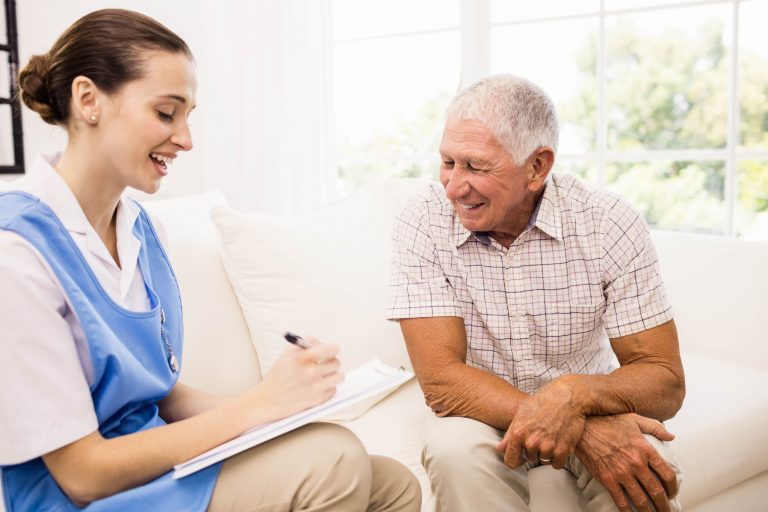 When Should You Consider In-Home Care?
As a senior, it is important to ensure that you can receive the help you need to live independently and comfortably at home. However, it may be difficult to admit that you occasionally need help with certain things. It is common for seniors to be embarrassed to ask for professional help, but it is important to know that there is nothing to be embarrassed about when getting the assistance you need. Centric Healthcare not only strives to ensure that you can continue to live a comfortable life at home, but that you are also living a more independent life. Some things that may indicate you should consider at-home senior care may include daily activities that are more challenging. This may include preparing meals, housekeeping or personal hygiene care, such as bathing, grooming or dressing, and/or it's difficult to get transportation to doctor appointments and/or other medical appointments. Senior home health care can provide you with greater convenience, a better quality of life and even lower medical bills.

Benefits of Senior In-Home Care
There are a wide range of benefits of elderly home care services, both non-medical and professionally licensed services, such as home health nurse services. Some of the benefits of in-home care services may include:
The freedom to remain in the comfort and privacy of your home

Lower cost than a nursing home

Communication support

Home care services are provided by reliable and trusted professionals

Assistance with daily ADLs, such as bathing, dressing, and grooming

Assistance with healthy meal preparation

Assistance with transportation to and from medical appointments

Companionship
Centric Healthcare prides itself on helping the elderly in Rochester, Minneapolis, St. Paul, and the surrounding cities in Minnesota. We understand the difficulties in deciding to begin senior care services, but the benefits will far outweigh the difficulties in making the decision for assistance.
Centric Healthcare helps make aging in place possible, which is a term used to describe the desire seniors have to continue living in their homes for as long as possible. At Centric Healthcare, our compassionate caregivers for seniors provide assistance with the activities of daily living that make aging in place possible. With our elder care services, seniors receive the one-on-one support they want and need to remain independent and to continue living safely at home. The options for elder home care are almost unlimited. We will work with you and your loved ones to create a plan of care that addresses your individual needs.
Eldercare is always scheduled for the times when you need it, and it can be changed as needed to adjust to your changing needs. Our caregivers for seniors are scheduled at your convenience and we are available 24 hours a day, 7 days a week — we are there when you need us. Here at Centric Healthcare, we understand that welcoming a caregiver into your home and into your life may be difficult, and we try to make this transition as easy and as comfortable as possible for you or your loved one.

Elderly Home Care in Minneapolis & St. Paul, Minnesota
The elderly population in Minneapolis and St. Paul Minnesota is rising. The elderly population can feel secure and safe in the area and enjoy the amazing settings. Centric Healthcare offers quality elderly home care in Minneapolis, St. Paul, and the surrounding cities in Minnesota. Our goal is to provide the highest quality standards and to achieve the quality goals required for top-notch in-home care for the residents of the Minneapolis and St. Paul area. Our assessment visits will help you determine if you are looking for non-medical or professional/medical home care services and we then create a care plan specifically for you and your needs.
We here at Centric Healthcare understand that the decision for senior home care services can be overwhelming. If you need any information or have questions or concerns about the elderly services we have available for the residents of Minnesota, please feel free to contact us by phone or online. We are happy to assist you in any way we can.
Choosing a home health care service provider can be overwhelming, so know that if you need any information or have questions and concerns about the services available to the residents of Rochester, Minneapolis, St. Paul, and the surrounding cities of Minnesota, or the qualifications necessary for home care services, please feel free to contact us by phone or online. We will be happy to assist you in any way we can.